Sea Eagle FishSkiff 16 16′ Inflatable Fishing Skiff – 3 Person Fishing Skiff
The Sea Eagle FishSkiff 16 is a 16ft long "Roll Up & Stow – Unroll & Go" 1, 2 or 3 person Inflatable Fishing Skiff . Simply roll up this inflatable and stow it in the car trunk. Comprised of entirely drop-stitch technology like that of Sea Eagle's inflatable stand up paddle boards which gives you all the benefits of a rigid hull without the excessive burdens and added cost. You don't need trailer, ramps, expensive fuel cost, maintenance or storage fees! As with all Sea Eagle Craft there is an impressive list of 5 Star Reviews and many users consider the FSK16 one of the Best Inflatable Fishing Skiffs in its class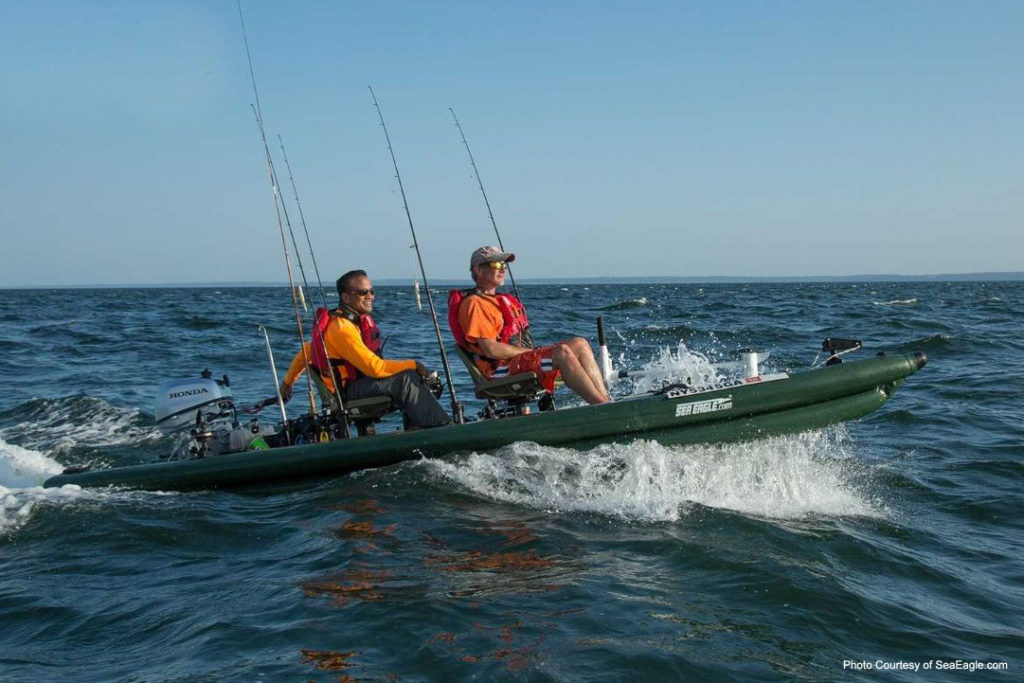 With a reliable Honda 9.9 hp outboard, the Sea Eagle FishSkiff16 will zip you around from one location to another at up to 21.5 mph, then quietly slip into prime position by using  a trolling motor, paddle or push pole, from shallow waters to deep water and all in between. The Sea Eagle FishSkiff 16™ is a Revolutionary Fishing Machine
About the Fishing Skiff Series
This Sea Eagle FishSkiff 16 provides you with a NEW and REVOLUTIONARY way to fish. Target those extremely hard to reach trophy fish and Increase your catch, without the hassles and added costs associated with rigid hull fishing craft. A superior inflatable craft that requires no trailer and can be fished everywhere from shallow to deep water .
Completely inflatable, portable, storable, and transportable, the Sea Eagle FishSkif can be stowed in the back of most cars and SUVs and in relatively small spaces because it has no frame. It doesn't require a trailer so you can carry it to the most remote, hard to reach locations where fish a hiding believing they can escape capture.
The hull design truly maximizes speed, handling, performance, stability, fuel efficiency and most importantly safety. Virtually unsinkable and completely self-bailing with three separate independent large air-filled chambers, the FishSkiff  will support an incredible amount of weight yet draft as little as six inches of water.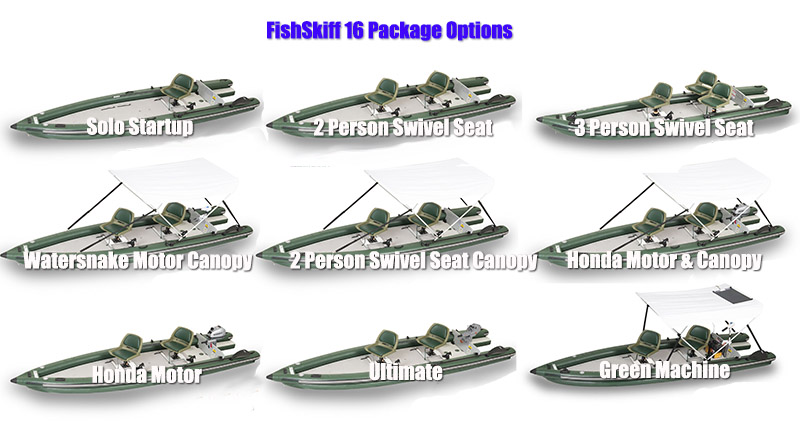 Key Features Sea Eagle FishSkiff 16 Inflatable Fishing Skiff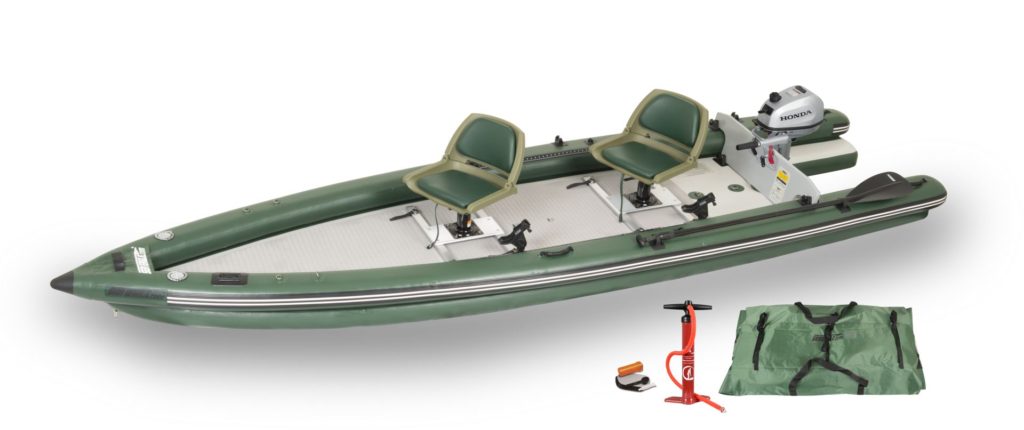 Air Chambers: Three completely independent air chambers for added safety. Each chamber is made of double layered, 1000 denier, reinforced, tough as crocodile hide hull material.
Scotty Pads: Bow & Stern Locations:  Scotty Pad at the bow and stern locations. Giving you the ability to customize your FishSkiff™ with a vast array of Scotty Fishing Accessories. Such as the easy to use Scotty Anchor Lock System. No more fussing with that anchor.
Trolling Motor Mount Attachment System: For quickly and easily attaching a bow mounted trolling motor. A great way to stealthy maneuver your FishSkiff™ into place. Giving you the best possible opportunity to score that once in a lifetime trophy fish!
Two Built-In 40″ FishRulers: Two conveniently located built-in 40″ FishRulers to assure your catch is legal and to log the true size of those trophy fish
Removable Transom: Removing the transom makes the FishSkiff™ lighter and easier to check as luggage and pack down smaller. Attach the transom and you're ready for up to a 10 hp outboard.
Low Profile Gunwales: Completely unsinkable by design. The low profile gunwales provide you with unprecedented access to the water. Facilitating fish landings, making catch and release quick, easy, and less stressful on the fish – not to mention yourself, and re-entry when snorkeling or SCUBA diving a piece of cake.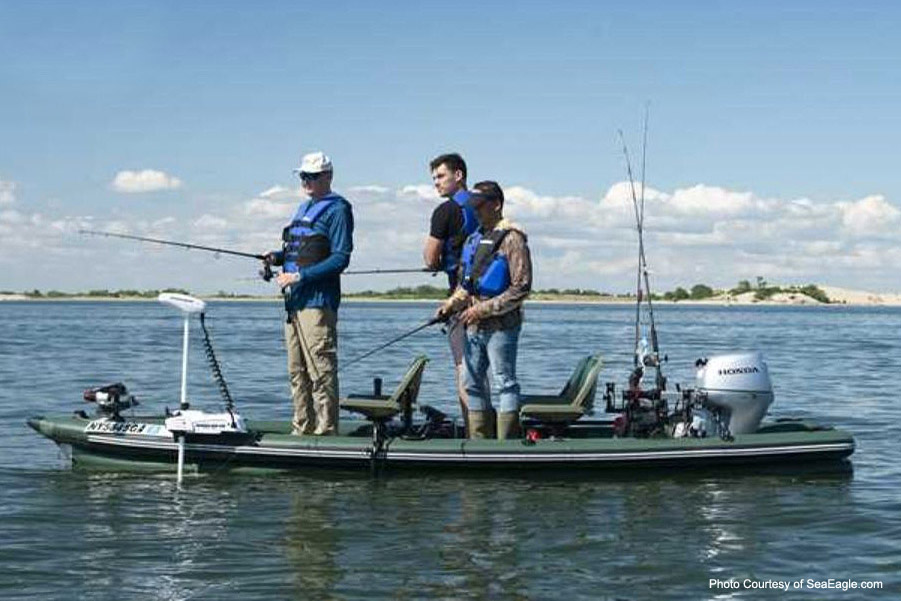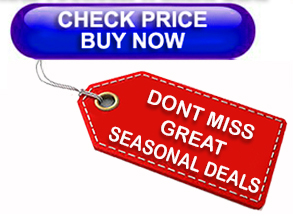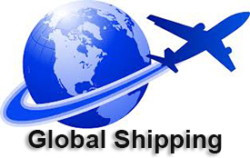 This Sea Eagle FishSkiff Package is supplied with a hand pump – treat yourself to the Sea Eagle's recommended Bravo 2 Stage Turbo Electric Pump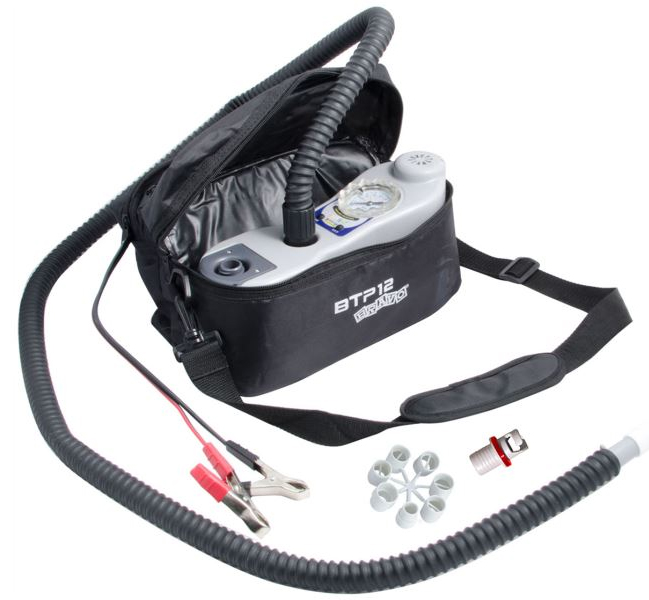 Other Features of Sea Eagle FSK 16
NMMA & CE Certified
Made from double layered, tough as crocodile hide hull material for added strength and durability
Strength of a rigid hull plus added benefits of an inflatable
All drop-stitch construction for incredible rigidity & high air pressure capacity (up to 15 psi)
Nearly unsinkable with three separate, independent air chambers for added safety
Completely self-bailing
Rolls up and stows in most car trunks
Can take up to a 10 hp outboard
Travels up to 21.5 mph w/ 9.9 hp motor
Incredibly fuel efficient, minimal draft, near zero drag, planing hull design
Can be easily fished by one, two or three fishermen
6 x Conveniently located grab handles
2 x Built-in 40″ Fish Rulers
Option to use gas or electric motors or both
Full non-slip EVA foam deck padding
Rubbing Strake
Universal Scotty Pads at bow and stern for use with a vast array of Scotty Accessories
Canopy brackets for optional sun/rain canopy
Removable transom
Specification of Sea Eagle FSK16 FishSkiff 16
Person Capacity 3
Hull Weight 99 lbs. (110 lbs. with transom)
Length 16 ft.
Width 4 ft. 6 in.
Interior 12′ x 3′
Load Capacity 1 to 3 Person or 1765 lbs.
Deflated Approx. 60″ x 24″ x 12″
Chambers 3 (Port, Starboard, Floor)
Tube Diameter 6″ Drop Stitch
Air Valves 3 Recessed One Way
Inflation time 17 min. w/ BTP Two Stage Electric Turbo Pump
Seam Quadruple Overlapping Superior Glued Seams
Material 1000 Denier Reinforced Drop Stitch
Engine Capacity 10 hp (100 lbs. max weight, 15″ Shaft, Gas Engine)
Floor Double Layer 1000 Denier Reinforced
Speed Estimates Up to 21.5 mph w/ 1 person, 18 mph w/ 2-3 person
Inflation Pressure 15 psi