Bravo BTP12 Two Stage Electric Turbo Pump
The Bravo BTP12 Two Stage Electric Turbo Pump is an ultra-fast electric pump. It is made even more convenient with a battery which neatly fits into its carry bag. This two-stage electric pump will rapidly inflate you inflatable craft with a high capacity turbine blower and then switch to a high pressure piston pump to pressurize the hull from 1 to 14.5 PSI. With a full battery charge, you can easily inflate the largest inflatable boats several times over.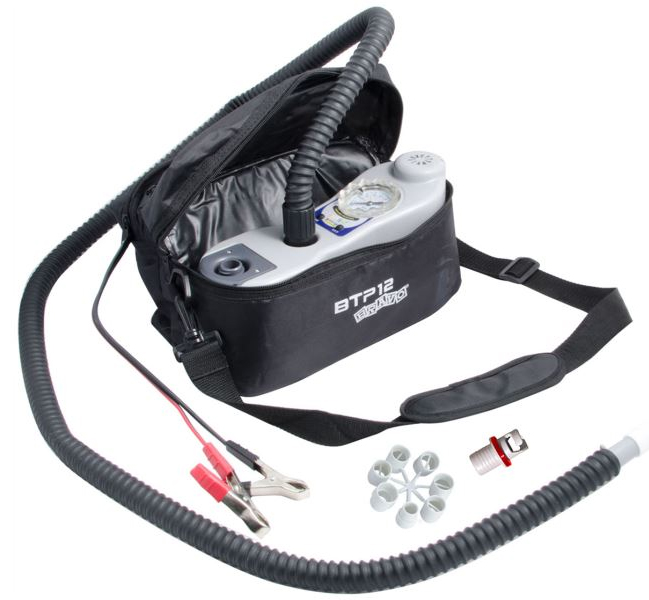 Key Features of Bravo Turbo Electric Pump
(Stage 1) Low pressure/high volume turbine blower
(Stage 2) High pressure piston for higher PSI
For products with high air volume requirements such as Inflatable Boats, RIBs, SUPs, Skiffs and Kayaks
The Bravo Pump will stop automatically when selected pressure is reached
Weight: 5.5 lbs.
Dimensions: 12″ x 4″ x 6″
Maximum Draw 20 Amps.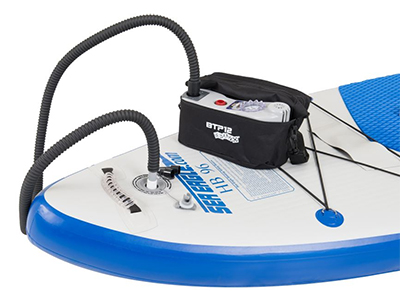 The Bravo Turbo Package?
Bravo 2 Stage Turbo Pump
Carry Bag
102″ (8'6″) cable w/alligator clips
72″ (6′) inflation hose
Common valve adapters