Sea Eagle 12ft 6in Inflatable SUP for Fishing – Model FS126
Looking for a Top Inflatable SUP for Fishing? Then you have to check out the New Sea Eagle FishSUP FS126 Fishing Inflatable SUP Paddle Board as it's a very versatile stand-up paddle board for fishing around allowing you to Sit using the optional Inflatable Seat.  You will experience fishing like never before and give you that extra edge over your fellow anglers enabling you to glide right into an area where there are monster fish just waiting to be hooked. The Sea Eagle FS126 receives Top Reviews from Customers and hence it is considered a Top Fishing SUP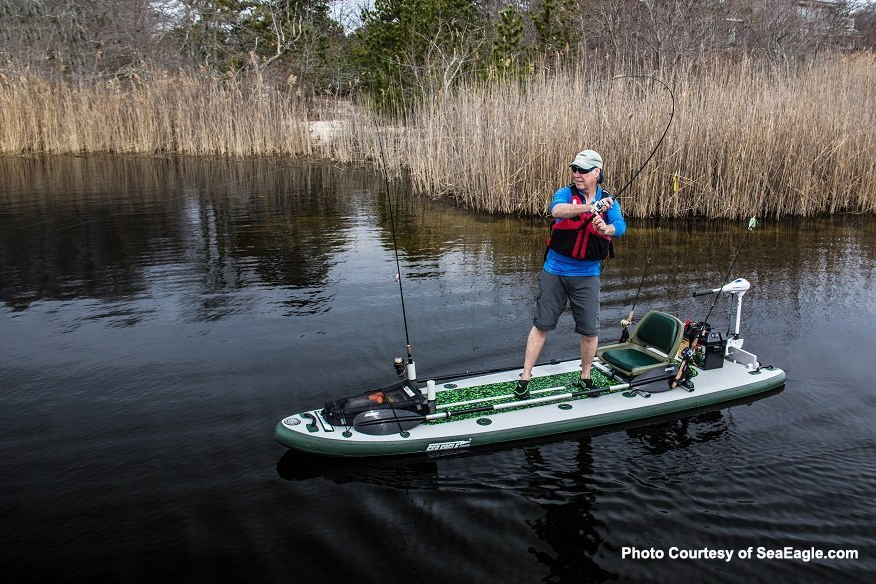 This SUP Package is supplied with a hand pump and footpump or treat yourself to the Sea Eagle's recommended Bravo BP12 Electric Pump.
The Sea Eagle FS126 FishSUP™ is extremely stable thanks to it's unique design, it's easy to use and is ready to go on the water in under 10 minutes – it can even be outfitted with an electric trolling motor.  Of course the big advantage is that being an inflatable SUP you no longer need to drag around that heavy boat and trailer and you can get into the water from the bank rather than a slipway.  Fishing Gear including Scotty Accessories available from Sea Eagle
Features of Sea Eagle FS126 Fishing SUP Paddle Board
he non-slip EVA foam deck is great for sitting or standing,  prevents slipping and punctures.
Upturned bow for easing over wake (4″ nose/entry rocker).
Slight continuous rocker throughout.
Large swallow tail for added stability and increased maneuverability.
Built-in 36″ Fish Ruler.
Unique Paddle Pocket for securing your paddle.
3 x Conveniently located front and rear grab handles.
3 x Easy slide-in, removable, rear skegs for better tracking.
D-Rings and shock cords at bow to secure gear.
Center balance middle carry handle with Sea Eagle cushion grip pad.
14 x Stainless Steel D-ring attachment points for attaching various accessories.
Large rear D-Ring attachment for leash.
Removable rear motor mount – for mounting up to a 55 lb. thrust electric trolling motor.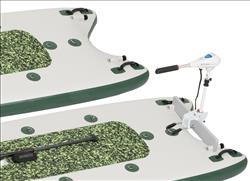 Up to 15 PSI max air pressure capacity
Deluxe recessed Halkey Roberts style air valve
Additional reinforcement layers


Take the hard work out of inflating your craft with the Bravo 2 Stage Turbo Electric Pump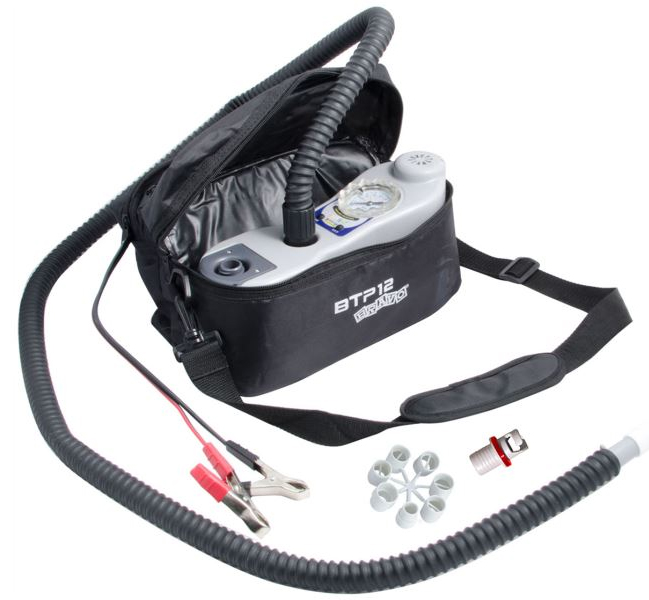 For a similar but larger alternative check out the Sea Eagle FishSkiff FS16 Inflatable Fishing Skiff that can accommodate up to 3 persons

Why Buy Sea Eagle FishSUP 126 Fishing Paddle Board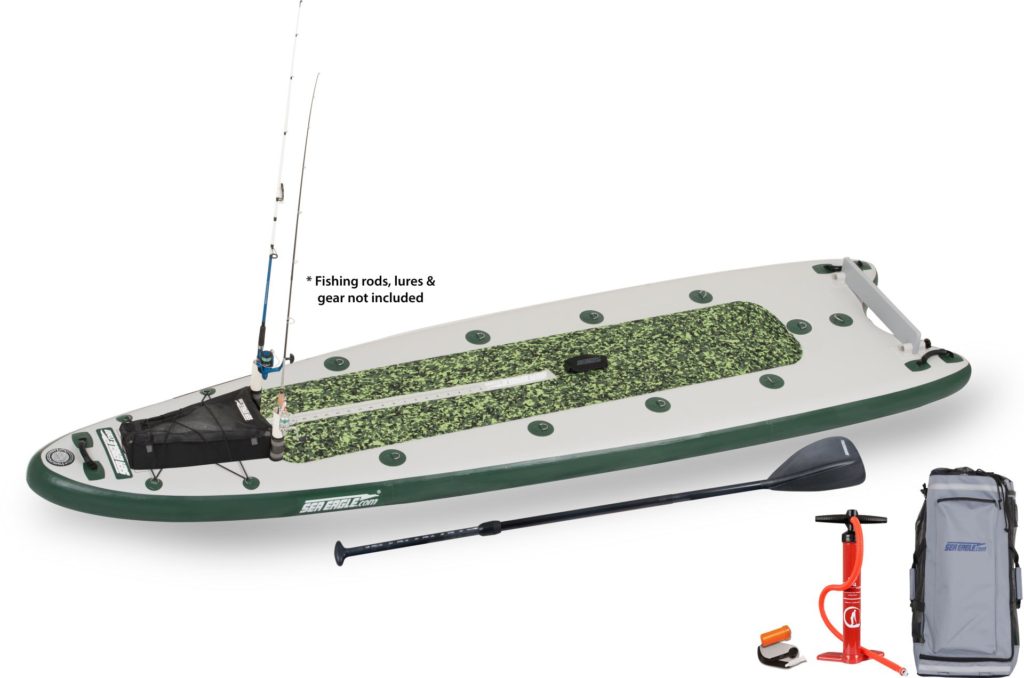 Pros – This SUP is designed specifically for fishermen and much thought has gone into the design particularly taking into account stability and the ability to equip it with all that you will need – important when you are in the middle of a lake when you can't just go to the trunk of your vehicle.
Being able to go to the fish rather than trying to lure them to the bank regularly means larger fish but having to take you boat and trailer is a pain and restrictive.   The Sea Eagle FishSUP FS126 being inflatable overcomes all of that and deflate to just 45″ x 15″ x 10″.  Yes, you potentially have to inflate each time but it take just 7 minutes with the supplied handpump.
Whilst this starter package is equipped to go for the serious fisherman the Sea Eagle FS126 Deluxe Package is equipped additional with Green Inflatable Seat,  7'10" Double Ended Paddle, and Foot Pump.
Read this great review courtesy of Kayak Angler who open with the comment – Sea Eagles Inflatable SUP blows up the line between SUP, Kayak and Skiff.
Of course a plus point for many is that Sea Eagle is based in the USA and it's been family owned and operated since 1968.
Cons – You can of course fish from a cheaper standard SUP Paddle Board but bear in mind this is designed specifically for fishermen.  If price is an issue at the time of writing this (May 2020) the FS126 is discounted by over 20%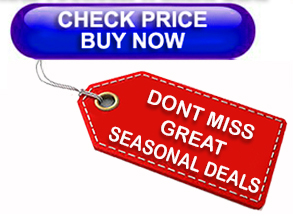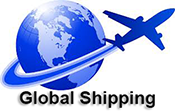 Specification of Sea Eagle FS126 FishSUP Deluxe Package
Person Capacity: 2
Hull Weight: 45 lbs. (48 lbs. with motor mount)
Length: 12 ft. 6 in.
Width: 3 ft. 4 in.
Load Capacity: 2 persons or 500 lbs.
Deflated: Approx. 45″ x 15″ x 10″
Air Valves: One Way
Inflation time: 7 Minutes
Seam: Quadruple Overlap
Material: 1000 Denier Reinforced Drop Stitch
Board Thickness: 6″
Engine Capacity: 55 lb. thrust (45 lbs. max weight)
Inflation Pressure: 12-15 psi
Volume : 340 Ltr.
Photographs courtesy of Sea Eagle