Buying an Inflatable Tender or Runabout Boat
An inflatable tender boat combines the convenience of a multi functional craft with the freedoms of a compact powerboat.  Let's highlight some of the qualities if you are considering buying an inflatable boat including portability for 'car-boot-boaters', buoyancy for carrying heavy loads and all important dynamic stability for the reliable ferrying of you crew from ship to shore.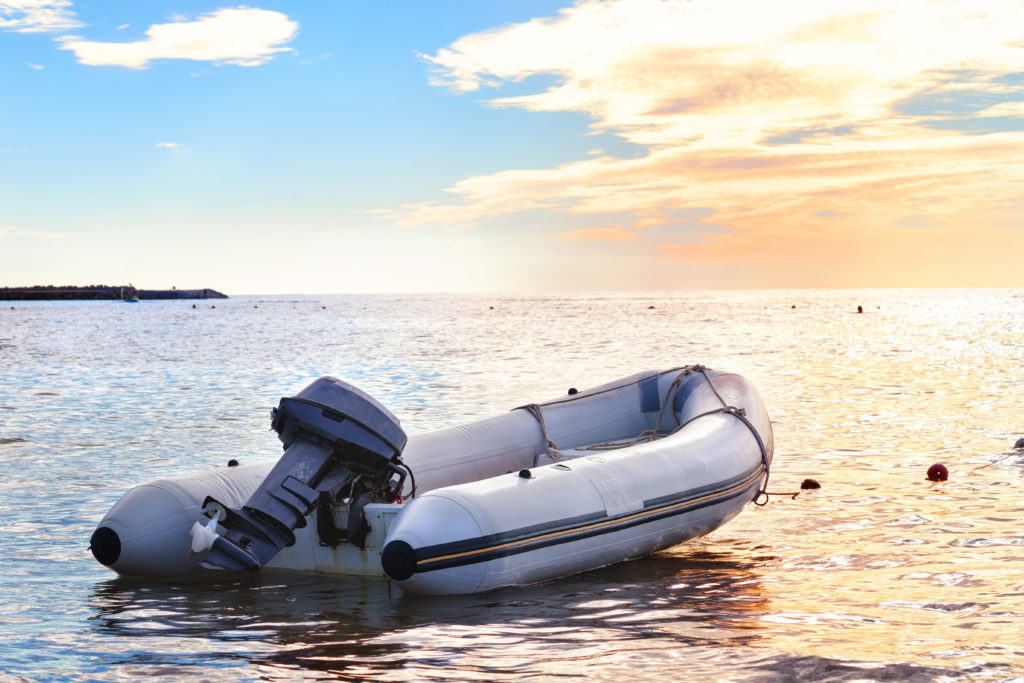 Of course we must provide a balance view point and highlight some of the negatives too, such as finding somewhere accessible to stow the boat, along with it's smelly fuel tank and lubricant-filled  outboard engine.  They can also be propelled by modest outboard power and they can be bought for very minimal outlay.
In summary there are plenty of good reasons both to love and hate inflatable craft and the issues are less to do with the boat itself and more to do with ill informed buying decisions.
Material Type
Inflatable boats are generally constructed from either PVC or Hypalon but there is a trade-off here between price and durability. PVC is extremely popular because it is lightweight and affordable. It too is easily folded for portability and stowage – and developments in polymers mean that modern PVC is very strong. Some come with threads woven into the material – these threads that are measured in Denier with a higher rating denotes a stronger thread.  For resilience you should also aim for  tightly woven thread.
On the downside, PVC remains susceptible to extended exposure to sunlight, heat and humidity and it's still not as hardwearing as Hypalon, the robust fabric that is commonly used for the construction of heavy-duty RIBs. If you intend to keep your inflatable tender permanently inflated alongside the mother vessel, then Hypalon is most suitable. However, if you want a very compact and portable boat for less regular use and for stowing away between outings, a modern, lightweight PVC inflatable craft is likely to prove the better option
Flooring Type
Inflatables tend to come with either an inflatable 'air deck' or a rigid floor built from interlocking aluminium, heavy duty plastic or plywood slats. For reduced weight, ride comfort, softness under your knees and a simplified assembly process, a high-pressure air floor is  a good choice.  If you are wanting higher speed operation with more structural rigidity and a more efficient use of power, a rigid floor is more suitable.    
Other Considerations
Most Inflatable Boat Packages should come with basic accessories  – oars, seat, pump, repair kit, lifting points and carry bag.
You should also look for multiple air chambers for safety, plus an inflatable thwart for extra strength.
As regards motive power, the inflatable boat's shallow draft and susceptibility to being influenced by wind means they can be challenging to row, so identify one with a pronounced inflatable keel to improve directional stability and investigate optional fins and tabs to help tweak the handling.
Think also about investing in some wheels for transporting your tender up and down pontoons and beaches.
Finally, if  you intend to buy a small outboard, you should strongly consider electric power for cleaner, simpler stowage and transport, also an extended tiller to help shift your weight forward for easier planing and a flatter ride.
Technological advances mean that a modern inflatable is far improved from those of 2 decades ago. Computer aided design, improved build processes and developments in fabric technology, have increased their reliability, brought down prices and enabled the production of much larger models.  Whatever size of boat you decide upon, it is essential that you match it to your intended usage as regards weight, fabric choice, deck type and outboard selection.    Do listen to the experts at your local ship chandlers or boatyard  but equally important is to do your own research before pulling out your credit card.