Alpacka Raft Oryx Inflatable 2-Person Canoe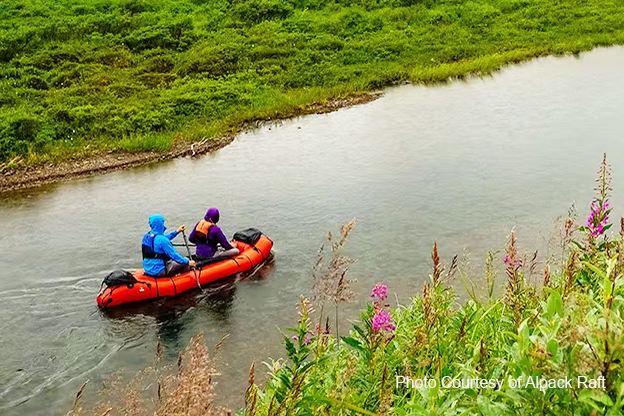 Alpacka Raft Oryx 2 Person Inflatable Canoe a modern take on the classic open canoe, the Oryx provides all day seating comfort and easy paddling for two. Perfect for traversing lakes and flatwater rivers such as the Boundary Waters and the Yukon.
The Alpacka Raft Oryx is narrower and longer than the raft inspired Alpacka Raft Forager and features two specialized ergonomic seats that allow the two paddlers to sit upright. The high seating position is ideal for all day seating comfort, putting in miles, and relaxing while fishing or wildlife watching. The Oryx is also their fastest flatwater boat hull. Experienced whitewater canoeists will be able to run up to Class II+ whitewater with ease in the Oryx, but the Forager is a better multi-person whitewater packraft.
Due to the seating configuration, the Oryx is best paddled with a canoe style paddle. However, it can be paddled by a single stern paddler with a kayak paddle so that the front paddler can fish, take pictures, make lunch, etc. We recommend the Aquabound Shred-Apart 240cm paddle with the Oryx.

Features of Alpacka Raft Oryx 2 Oerson Inflatable Canoe
Manufacturing – Made to Order in Mancos, Colorado
Shape– Cargo Hull
Tube Diameter – 13.1-inch
Valve – Temper assist valve for inflation and deflation
Attachments – 4 bow grab loops, 2 stern grab loops, 4 single D-rings, and 1 bow handle
Seating – Custom fit mushroom seat for rear paddler and touring seat for front paddler
Build Configurations – Open
Cargo Fly – Standard (Internal Dry Bags sold separately)
Materials – Proprietary 210-denier high count nylon hull and 840-denier ballistic nylon floor (Made in USA).
Includes – Inflation Bag, Stuff Sack, and Basic Repair Kit
Recommended Gear  – Aqua-Bound Shred-Apart 240cm Paddle, Astral V-Eight PFD
Alpacka Raft Oryx Specification
Exterior Length: 

129in | 328cm

Exterior Width: 

41in | 104cm

Stern Interior:   Width

15.5in | 39cm

Bow Interior :  Width

14in | 36cm

Weight; 

10.8lb | 4.90kg

Packed Size: 

19×8.25in | 48x21cm

Max Capacity:  *

800lb | 363kg