Alpacka Raft Forager Inflatable 2-Person Packraft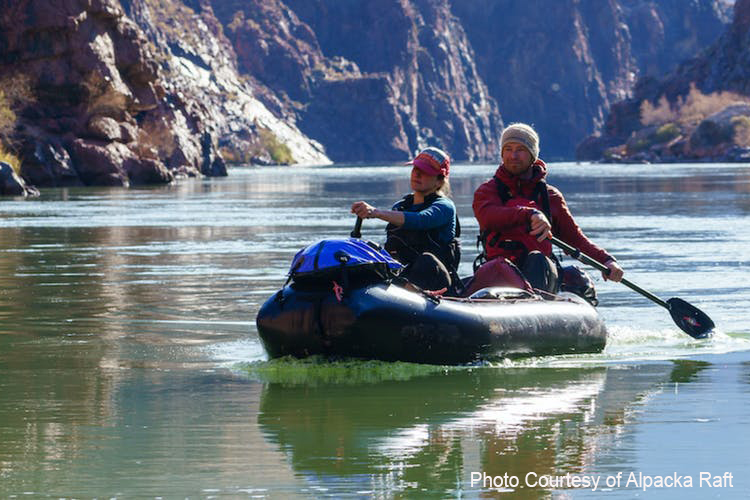 Alpacka Raft Forager PackRaft their largest and go anywhere packraft. This inflatable is self bailing with two-person seating, has massive cargo capacity and in a super stable backpackable package. Whether you are planning an Alaska river trips, running western whitewater classics, big game hunting in remote areas, or fly fishing in the backcountry, the Alpacka Raft Forager is big and tough enough to handle any adventure..
Packrafting allows you to combine both land and water travel in the backcountry. The Alpacka Raft Forager goes further with unrivaled durability, stability, and cargo capacity in a backpackable package. The Forager is light enough to backpack for two and the Forager's XL Cargo Fly will take hundreds of pounds of cargo and keep it safe and dry while improving stability and handling.
You can pack a Forager and two sets of paddling gear into a single duffel and fly anywhere in the world for the cost of only a checked bag. You can load the Forager up with 12-days of food and equipment, plus two Gnarwhals as spare boats, for a self-support winter run down the Grand Canyon, successfully paddling through all of the major rapids along the way.
If you are looking for a two person packraft, that can handle everything from a classic western river trip, to exploring remote areas of Alaska, self-supported big game hunting, backcountry drift boat fishing, right through to worldwide travel, the Forager has you covered.
Due to the seating configuration, the Forager is best paddled with a canoe style paddle. However, it can be paddled by a single stern paddler with a kayak paddle so that the front paddler can fish, take pictures, make lunch, etc. We recommend the Aquabound Shred-Apart paddle with the Forager, with the 240cm version being preferred.

Features of the Alpacka Raft Forager Pack Raft
Manufacturing – Made to Order in Mancos, Colorado
Shape – Cargo Hull
Tube Diameter – 13.1-inch
Valve – Temper assist valve for inflation and deflation
D-rings– 2 bow D-ring grab loops, 2 stern D-ring grab loops, 8 lightweight D-rings on sides for lashing cargo, and 1 bow handle with 2 d-rings
Seating – Full length inflatable floor, optional platform seat for front passenger
Build Configurations – Self Bailing
Cargo Fly – Standard (Internal Dry Bags sold separately)
Materials – Proprietary 420-denier nylon hull and 840-denier ballistic nylon floor (Made in USA).
Alpacka Raft Forager Packraft Specification
Exterior Length: 
124in | 315cm
Exterior Width: 
43in | 109cm
Interior Length: 
70in | 178cm
Interior Width: 
18in | 46cm
Packed Size**: 
20x10in | 51x25cm
Max Capacity***:  </strong>
1000lb | 453kg