Alpacka Raft Inflatable Bike Raft Pack Raft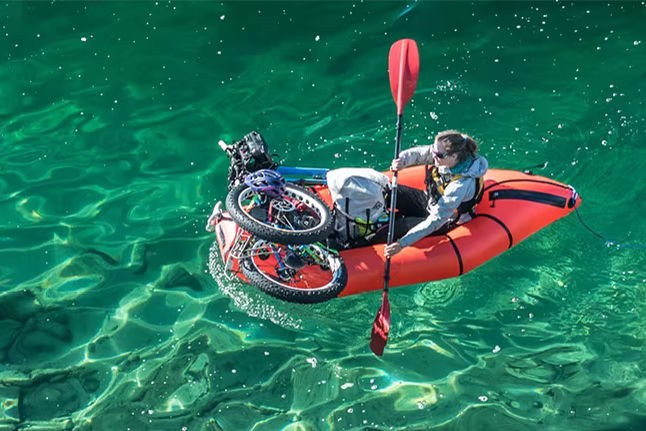 Alpacka Raft Caribou Packraft doubles as a Bikeraft.  Combining light and durable tubes with a full strength 840d Ballistic Nylon Floor and their innovative Late Rise Bow, the Caribou is the ultimate backcountry front end loader raft.
It weighs in at 4lbs 12oz (5lbs with a Cargo Fly), making the Alpacka Raft Caribou is also the lightest full sized packraft on the market. It's the perfect packraft for bikerafting and big ultralight backcountry adventures.
For many years, the only way to carry your gear on large, multi-sport packraft adventures was either inside the boat on the floor, or mounted to the bow. However, in 2011, Alpacka Raft changed the game completely when they invented the Cargo Fly internal gear storage system. This design not only kept your gear drier, it also dramatically increased handling and whitewater performance. However, it didn't solve the problem of carrying large bulky items like bicycles, big game animals, and large packs on the bow.
So they designed the Caribou with the Late Rise Bow, that combines the stability and load carrying ability of a rockerless hull with the whitewater and wave performance of a rockered hull. Unlike anything else on the market, the Late Rise Bow still provides a rocker to shed waves and whitewater, but it moves beginning of the rocker in front of the bow's mounted load. The result is a broad stable platform for mounting bulky and heavy items like bicycles that carries them high and keeps them out of the water when paddling. And, the load remains balanced and stable on both water and land.
To keep the weight and bulk at an absolute minimum, while preserving their legendary durability, Alpacka Raft utilized the same lightweight 210-denier high count nylon fabric as the Scout and the 840-denier floor featured in our other packrafts. The result is an ultralight, full-size bikeraft or ultralight hunting raft that rolls up small for stashing in a pack or on your handlebar roll. It's also available with a Cargo Fly, for keeping bulky gear on the bow and loose gear inside and dry.

Features of the Alpacka Raft Caribou Inflatable Packraft
Manufacturing – Made to Order in Mancos, Colorado
Shape – Classic with Late Rise Bow
Tube Diameter – 11.7-inch
Valve – Temper assist valve for inflation and deflation
Attachments – 4 bow strap plates, 2 stern grab loops, and 1 bow handle
Seating – Classic Seat Bottom
Build Configurations – Open
Cargo Fly – Standard (Internal Dry Bags sold separately)
Materials – Proprietary ultralight 210-denier high count nylon hull and 840-denier ballistic nylon floor (Made in USA). Additional fabric options available through the Custom Lab.
Includes: Inflation Bag, Stuff Sack, and Basic Repair Kit
Recommended Gear: Aqua-Bound Whiskey, Manta Ray, or Werner Shuna paddles, Astral V-8 PFD
Specification of Alpacka Raft Caribou Inflatable Pack Raft
Exterior Length – 97in | 246cm
Exterior Width – 38in | 97cm
Interior Length – 49in | 123cm
Interior Width – 14.5in | 37cm
Weight w/o Cargo Fly* – 4.8lb | 2.15kg
Weight with Cargo Fly* – 5.0lb | 2.27kg
Packed Size** – 17x6in | 43x15cm
Max Capacity*** – 400lb | 181kg