Sea Eagle SUPCat10 10ft Fishing Stand Up Paddleboard
The Sea Eagle SUPCat10 uses inflatable Stand Up Paddle Board technology providing one of the Best Inflatable Catamaran Fishing Craft. Two side pontoons made of high-pressure drop-stitch inflates up to 15 psi for rock-solid stability.
Sorry Recently Discontinued
but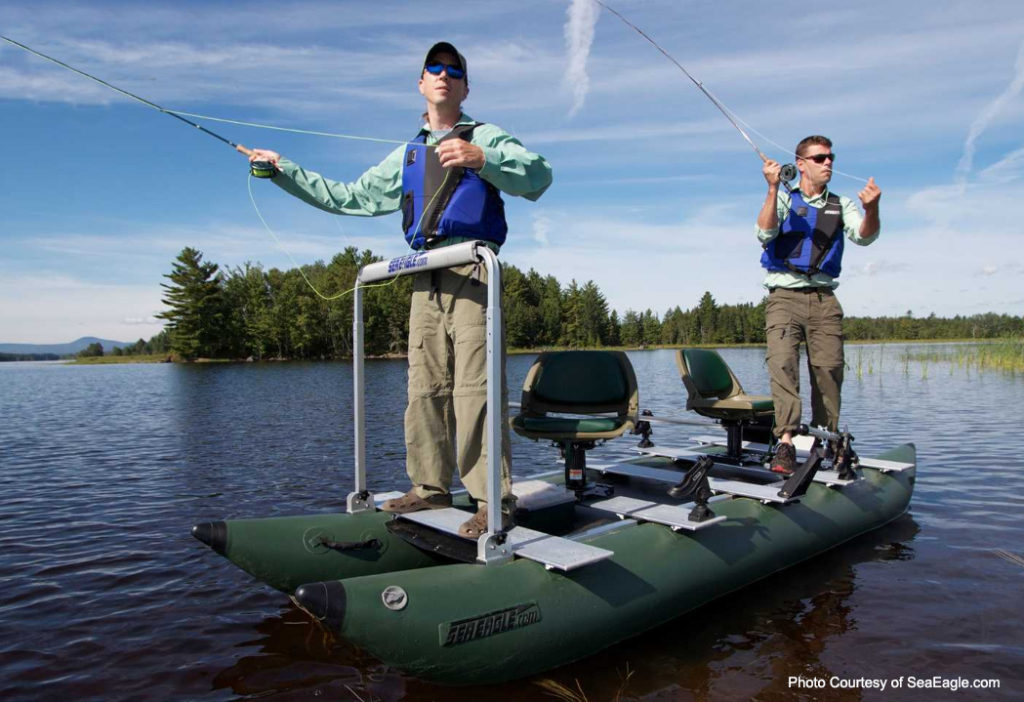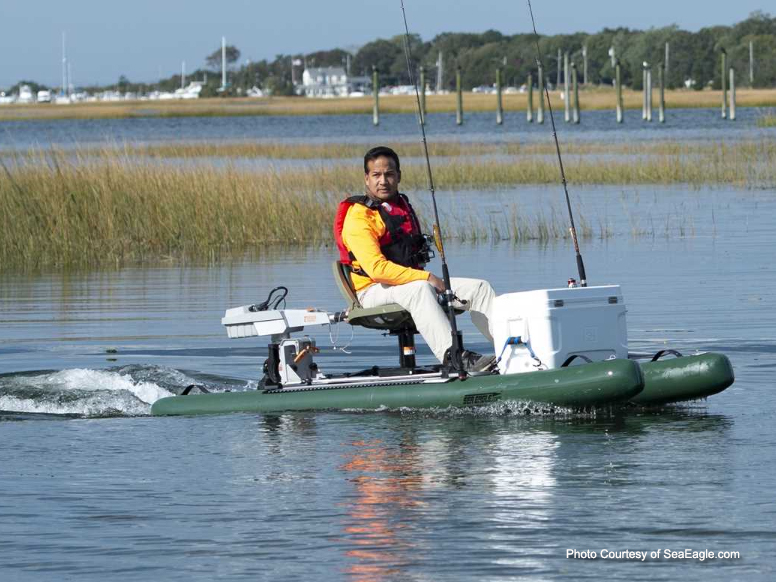 With an optional 2.3 hp Honda Engine you can speed along at up to 8 mph which is faster than any kayak with an electric motor or pedal drive. Averaging 30 mpg, you're sure to have the most fuel-efficient hull on the market.  Alternatively with the optional WaterSnake Venom 34 electric motor can cruise you around at 4 mph. Of course Sea Eagle SUPCat can even be paddled.
Being a dedicated fishing craft, the SUPCat10 in equipped with two front Universal Scotty Gear Head Mounts, two rear Universal Scotty Deck Mounts and two rod holders.
With the optional EZ Cart Wheels and the wheels in the down position, you can cart the boat and all your gear to the water.  Once at the water, you simply switch wheels to the up position and paddle or motor away.
About the Sea Eagle Fishing SUPs Series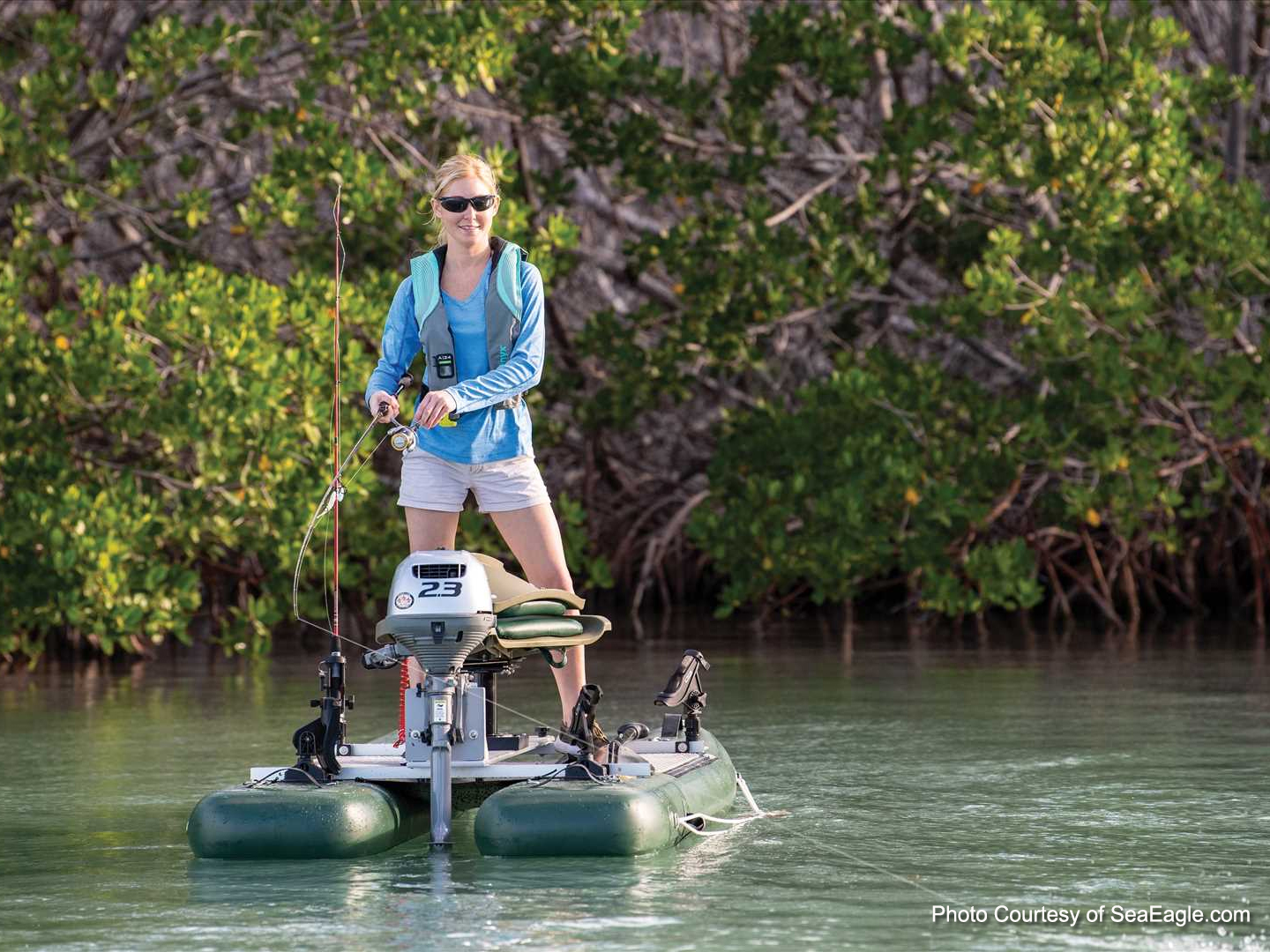 Sea Eagle Fishing Inflatable SUPs are considered by many as the most versatile stand-up paddleboards.   Designed for fishermen always on the go, you can sit, stand, fish, motor or troll . 
These fishing SUPs are incredibly stable and easy to use, extremely portable and affordable and can be set up in under 10 minutes.
Sea Eagle Fishing SUPs stow in your car trunk so you are always ready to go fishing.  No longer do you need to lug around heavy boats and trailers and incur unnecessary fees.    For something similar that might appeal take a look at the Sea Eagle FishSUP 126 Inflatable Fishing Stand-Up Paddleboard for 1 or 2 persons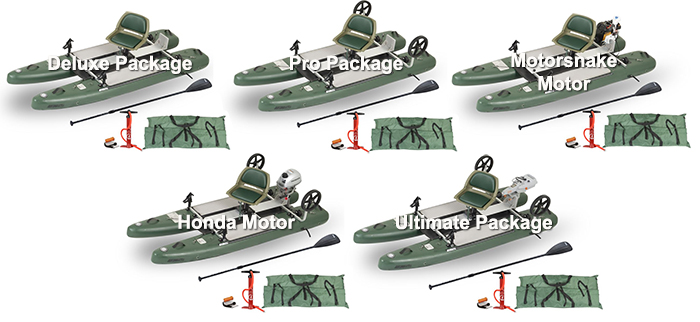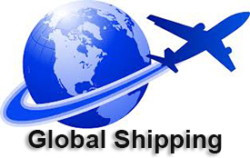 Key Features of Sea Eagle SUPCat10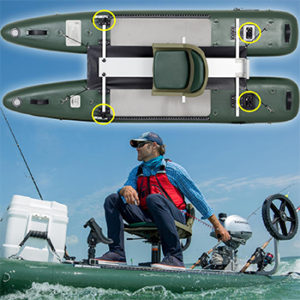 16 Stainless Steel D-ring Attachment Points – Multiple stainless steel D-ring attachment points for securing items such as coolers, anchor trolleys, stake-out poles, tackle boxes, and other gear. Also useful when tying off to a dock.
4 Universal Scotty Gear Mounts – 4 Universal Scotty Gear Mounts for attaching a vast array of Scotty products such as rod holders, triple rod holders, anchor locks, sounder mounts, transducer mounts, cutting boards, cup holders, camera mounts and so much more.
Dual Built-In 40″ Fish Rulers – Two conveniently located (port & starboard) built-in 40″ Fish Rulers to assure your catch is legal and to measure the true size of those trophy fish! No more worrying about forgetting, losing, dropping, rusting or the malfunctioning of one of your most important fishing tools.
360° Locking Swivel Seat – No more awkward, painful, uncomfortable positions when accessing rods, tackle, and other gear. Fighting fish is easier from any angle and land them is a breeze. With 360° accessibility, you'll be in a perfect position every time. Lever locking system locks the seat into position so you can release it at will.
Easy Up & Easy Down Cart Wheels – Roll your SUPCat10™ fully loaded, completely rigged up with gear to and from the water in one single easy trip. Comfort, speed, efficiency, and ease! Less pre-exhaustion time means more high energy highly focused fishing time on the water. Easy up, easy down and center positions keep your cart conveniently with you at all times, creating the truly one trip wonder!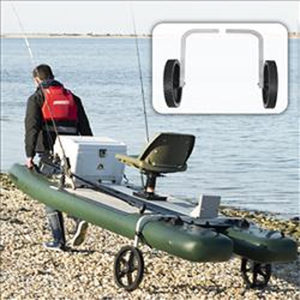 With Honda 2.3 hp Outboard Engine – Speeds of up to 8 mph with an incredible 30 mpg average! Honda's 2.3L hp four-stroke outboard has a built-in .29 US gal (1.1L) fuel tank that will provide up to 60 mins of full throttle run time.
Specification Sea Eagle  SUPCat10 Fishing Stand Up Paddle Board
Person Capacity: 1
Hull Weight: 42 lbs.
Length: 10 ft.
Width: 3 ft. 6 in.
Interior: 8′ x 42″
Total Max Load Capacity: 1 person or 450lbs.
Deflated: 9″ x 19″ x 52″
Chambers: 2 (Port, Starboard)
Tube Diameter: 8″ Drop Stitch
Air Valves: 2
Inflation time: 7 minutes
Seam: Quadruple Overlapping Superior Glued Seams
Material: 1000 Denier Reinforced Drop Stitch
Engine Capacity: 3 hp gas (min 20″ shaft, 45 lbs. max weight) or 70 lbs. thrust Electric Motor (min 30″ shaft, 45 lbs. max wt.)
Speed Estimate: 8 mph with gas motor, 4 mph with electric motor
Inflation Pressure: 12- 15 PSI