Sea Eagle LongBoard 11 Inflatable Stand-Up Paddle Board Deluxe Package
The New Sea Eagle  LB11 iSUP Paddle Board Deluxe Package includes a great all-around inflatable SUP Paddle Board for both flat water and surf and for novice and expert paddlers plus it allows you to sit and paddle or perhaps fish thanks to the included inflatable seat and double ended paddle. As with all Sea Eagle Paddle Boards the LongBoard 11 receives many 5 Star Reviews and hence the reason many would consider it be one of the Best Inflatable Stand Up Paddle Boards in its class.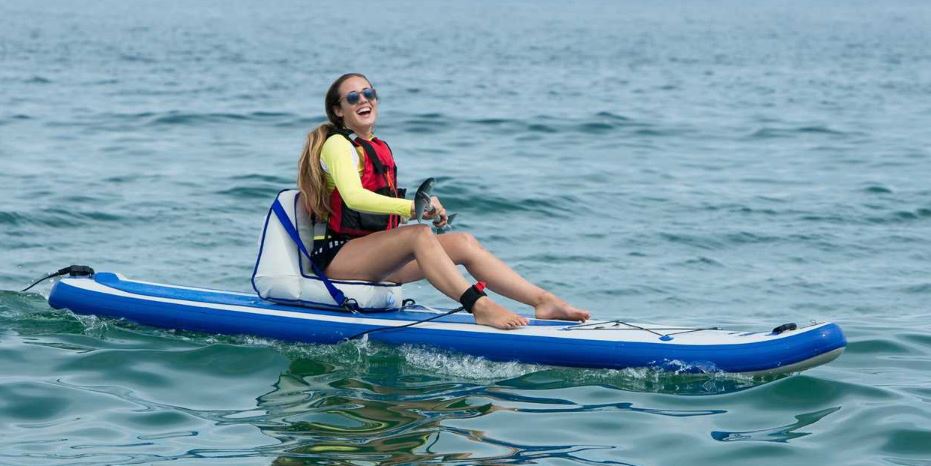 The Sea Eagle Inflatable LongBoard SUP Series has been completely redesigned and transformed into a true hybrid SUP.  It designed so that you can stand, sit, surf, fish, tour and thanks to the stability perform yoga.  They are made with 6″ thick drop stitch material to increase buoyancy, rigidity, and stability. they have added 4″ nose/entry rocker followed by a slight continuous board rocker and finish/exit with a 2″ tail rocker.
This Stand Up or Sit Down LongBoard 11 gives you a fantastic work out and a great view of the water from a standing position. and an equally goo workout when you use it as a sup rower.
At 11′ length, 30″ width, and 6″ deep this SUP has 228 Liters volume will provide you with plenty of stability which is particularly important if you are a novice.
Best suited for those weighing 200 lbs or less.
Features of Sea Eagle LB11 Stand Up Paddle Board Deluxe Package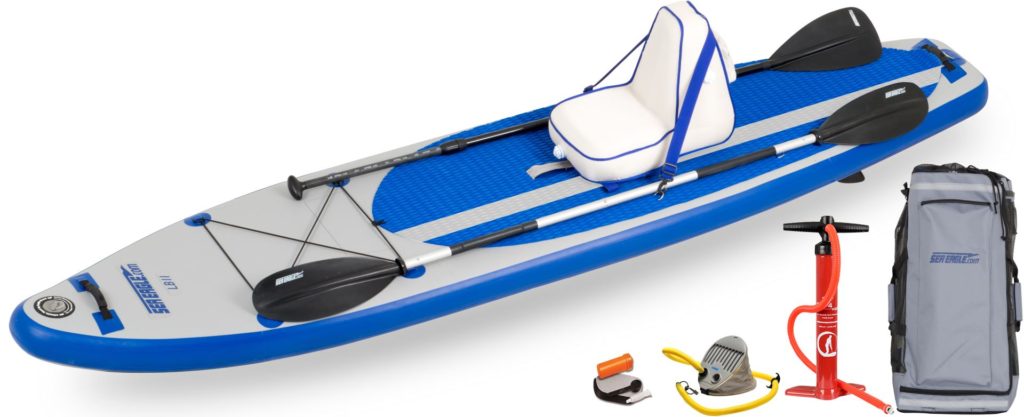 Sit down or stand up paddling.
Use as a SUP Rower with the inflatable Seat and Double Ended Paddle
Upturned bow for surfing (4″ nose/entry rocker)
Slight continuous rocker throughout
Upturned stern for performance surfing (2″ tail/exit rocker)
NEW EVA foam diamond deck pad
NEW EVA foam custom performance kick tail
NEW Paddle Pocket for securing your paddle
Front and rear grab handles
Large, easy slide-in, removable, rear center skeg
Two leading side skegs for better tracking
D-Rings and shock cords at bow to secure gear
Conveniently located front grab handle
Center balance middle carry handle
Center seat D-Ring attachments
Large rear D-Ring attachment for leash, towing, etc..
Up to 15 PSI max air pressure capacity
Deluxe recessed Halkey Roberts style air valve
Skid resistant foot pad
Additional reinforcement layers
Drop Stitch inflatable construction provides tremendous rigidity

Included in the Sea Eagle LB11 Long Board 11 SUP Deluxe Package
LongBoard 11 Hull
Small Backpack
SUP Paddle
7'10" AB30 Dpible Ended Paddle
Deluxe Inflatable Kayak Seat
Manual Select SUP Pump
A41 Foot Pump
Slide in Skeg
Repair Kit
Reasons to consider the Sea Eagle LongBoard 11 LB11 iSUP Deluxe Package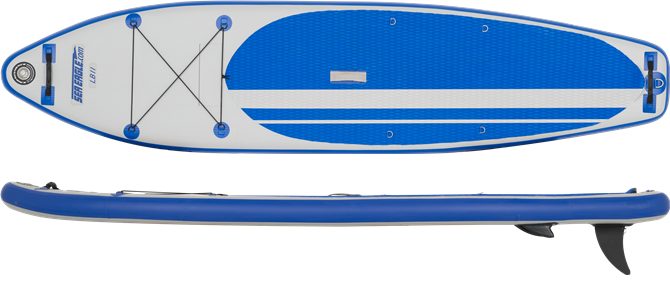 This New Sea Eagle LB11 LongBoard SUP is a very stable board and would suit any novice but is designed to thrill the expert too.  Stability is not only useful when starting out but also for those looking for a  SUP Yoga Paddle Board or for SUP Fishing making use of the Inflatable Seat that is included in the Deluxe Package
This LB11 LongBoard is so much more than a standard SUP Paddle Board and there are options to add a Swivel Seat Fishing Rig rather than the included inflatable seat and a QuikRow Kit to convert it to a SUP Rower.  It takes just 5 minutes to inflate with the included manual SUP Pump which is one of the quickest of Sea Eagles SUPs.  For those wnating to speed things further you could concider the recommended Bravo BP12 Electric SUP Pump
Sea Eagle brand name has become synonymous with quality, affordability, reliability and excellent personal "one on one" customer service.  With the Sea Eagle LB11 Deluxe Package coming it around $800 which includes a $300 Discount this represents great value for a Paddle Board of this quality and of course it's an SUP Rower/Kayak too
What will appeal to many is that Sea Eagle is based in the USA and has been family owned and operated since 1968.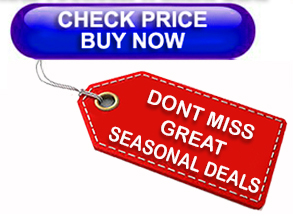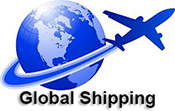 Specification of Sea Eagle LB11 LongBoard 11 Inflatable Stand Up Paddle Board
Person Capacity: 1 or 200 lbs
Length: 11 ft.
Width: 30 in.
Board Depth: 6″
Hull Weight:  25 lbs.
Deflated Approx: 32″ x 14″ x 8″
Air Valves:  One Way
Inflation time: 5 Minutes
Seam: Quadruple Overlap
Material: 1000 Denier Reinforced Drop Stitch
Inflation Pressure: 12-15 psi
Volume: 228 Ltr.
Sea Eagle Long Board Comparison Chart

Person Capacity
1
1
Hull Weight
25 lbs.
29 lbs.
Length
11 ft.
12 ft. 6 in.
Width
30 in.
30 in.
Board Thickness
6 in.
6 in.
Volume
228 Ltr.
260 Ltr.
Load Capacity
1 adult or 200 lbs.
1 adult or 250 lbs.
Deflated
Approx. 32″ x 14″ x 8″
Approx. 32″ x 14″ x 10″
Air Valves
One Way
One Way
Inflation time
5 Minutes
7 Minutes
Seam
Quadruple Overlap
Quadruple Overlap
Material
1000 Denier Reinforced Drop Stitch
1000 Denier Reinforced Drop Stitch
Inflation Pressure
12-15 psi
12-15 psi
Learn More
Learn More