Bravo BP12 Single Stage Electric Pump – Inflatable Kayak, Paddle Boards & Boats
The Bravo BP12 Electric SUP Kayak Pump is a highly efficient lightweight single stage high pressure piston pump that will inflate from 1 psi to 14.5 psi. Brilliantly simply set the turn dial to your desired pressure setting, turn the pump "on" and it will stop when the required psi is reached.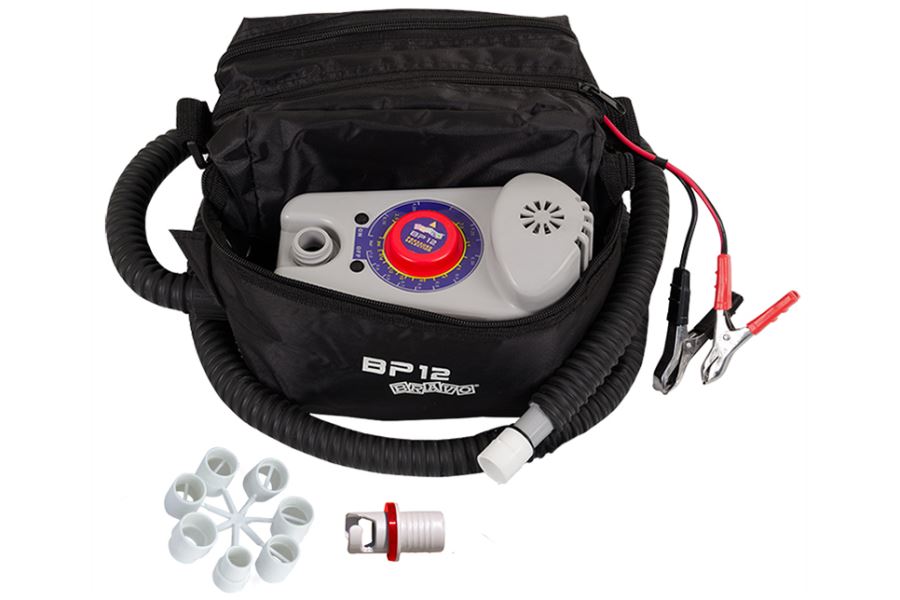 On a lovely warm day it's great to go paddling but why break into a seat using a hand pump when this Bravo BP12 will do all the work for you.  It is supplied with aligator clips to attach to a 12 volt battery so you can pop the hood on the car or even better buy a small battery such as is used on a moped which means you can inflate anywhere.
Features of Bravo BO12 Ekectric Pump
Light and compact pump
High Pressure Piston Pump
Great for smaller size hulls
Auto-stops when selected pressure setting is reached
Weight: 4 lbs.
Dimensions: 8″ x 4″ x 5″
Maximum Draw 20 Amps.
Please Note 12 volt battery not included – pop the hood of your vehicle or purchase a small moped battery
What's Included with the  Bravo BP12 Electic SUP Kayak Pump
8'6″ cable w/alligator clips
6′ inflation hose
Common valve adapters
Carry Bag