Sea Eagle 420x 14′ Explorer 3 Person Inflatable Kayak
The Sea Eagle 420x Explorer inflatable kayak stands head and shoulders above the crowd and is designed to accommodate 3 people. It performs excellently on whitewater as well as open-water and surf too.  If you plan on camping, overnight trips or just plain need the extra storage space this 420x is just what you need. With all its 5 Star Reviews many consider the 420x one of the Best 3 Person Inflatable Kayak in its class

About the Sea Eagle Explorer Series
Don't purchase a kayak until you check out the great "Direct from the Manufacturer Prices" on Sea Eagle Explorer Kayak Packages. Great wet or dry boats – they are tough enough for class four whitewater whilst stable, dry and comfortable on flat-water too. There are 4 models to available – One To Suit Every Occasion
Fitted with 16 super-fast self-bailing drain valves which can be left open for whitewater and ocean kayaking or they can be closed for high and dry flat-water paddling.
The Sea Eagle Explorers also feature a removable slide skeg for improved tracking on open water. Dollar for Dollar the Explorers are hard to beat handling any type of adventure: Fishing, Touring, Camping, Exploring, Adventuring, and for the adrenaline junkie – Whitewater .
Key Features of Sea Eagle Explorer Inflatable Kayak Model 420x
Modular Rigid Drop Stitch Floor Provides Double Protection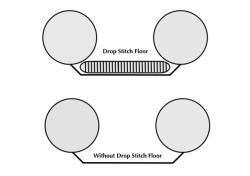 The unique modular design of the Sea Eagle Explorer™ features a super rigid, high pressure, drop stitch floor that sits on top of an outside floor. This has several advantages. The high-pressure DS floor provides great rigidity and super responsive paddling performance. The reinforced outside fabric floor provides a double layer of added protection so it can bounce off rocks, logs, and other objects. The modular design allows the DS floor to be easily removed for quick and thorough cleaning.
16 Rapid Self – Bailing Easy To Open & Shut Drain Valves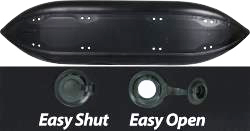 When the 16 rapid self-bailing drain valves are open, you are sure to drain off water as quickly as it enters! With the drain valves closed you are certain to remain high and dry when paddling on flat waters such as lakes, bays and other bodies of water.
Large Removable Rear Center Skeg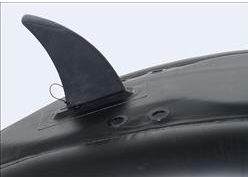 A nice feature of this design is that the skeg can be removed with the Explorer inflated or deflated. Simply remove it for whitewater and skinny water adventures (eliminating it as an obstruction)and replace it for flat water to reduce yawing (swinging to the right or left). This increases track-ability during long flat-water touring, maximizing efficiency.


Why Buy this Sea Eagle 420X Inflatable Kayak?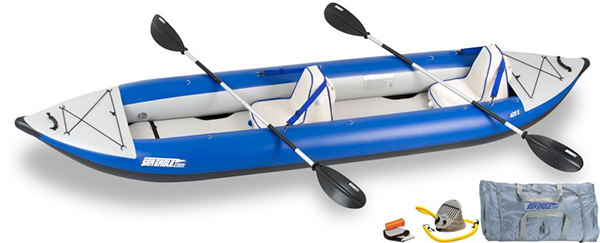 Pros – The Sea Eagle 420x is not just a very durable craft but your doorway to adventures.  At 14ft it's designed for 3 people but big enough to carry camping gear and 2 people.  It is suitable for all manner of activities right up to White Water Kayaking.  A so many packages available including Motor, Rowing and Fishing.  Sea Eagle Inflatable Kayaks have such a high reputation – we can sing their praises but nothing speaks louder than the all the highly rated testimonials.   In existence for over 50 years and US based will please many.
Cons – As a top end product the Sea Eagle 420x might be a little expensive compared to other inflatable kayaks but worth the extra from peace of mind and years more usage.  At the time of writing this (May 2020) the starter package is discounted to under $1,000 but if that is still too much take a look at the smaller 12ft 6in Sea Eagle 380X Explorer Inflatable Kayak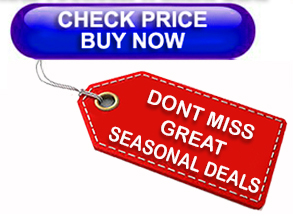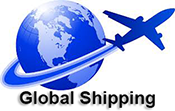 Specification of Sea Eagle Inflatable Kayak 420x
Exterior: 14′ x 39″
Interior: 13′ 4″ x 15″
Tubes: 11.5″ Diameter
Hull Weight: 44 lbs.
Hull Material 1000 Denier Reinforced
Inflation: 9 Minutes
Weight Capacity: 2-3 Persons or 855 lbs.
Engine Capacity: 34 lb. Thrust Electric, 15 lb. Max Wt.
Deflated: 31″ x 21″ x 10″
NMMA Certified
3 Deluxe one-way recessed air valve
Front & stern carry handles
16 screw type self-bailing open/shut floor drains
Large removable skeg for flatwater touring
Bow and stern deck rigging
Separate inner High Pressure Drop-stitch floor for greater rigidity & structural strength
26 stainless steel D-rings to secure seats, thigh straps and gear
Rated for Class IV rapids
Carry bag, repair kit & Instructions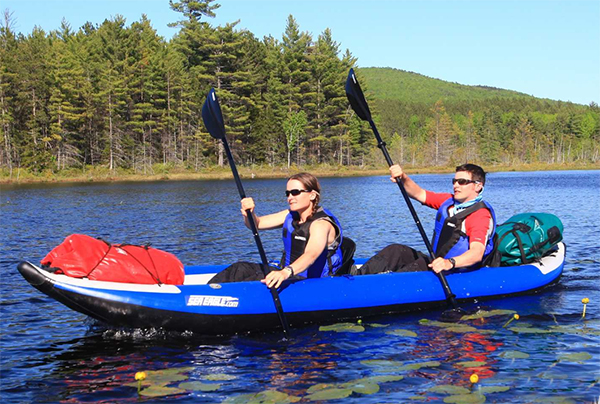 All Photos & Images Courtesy of SeaEagle.com