Sevylor Fishing Rio 9'9″ Hunting Fishing Canoe Kayak
 

 – 1 Person Kayak
Model: Sevylor 2000014134
Sevylor Rio Hunting Fishing Inflatable Canoe is a Top Inflatable Canoe for fishing or hunting that is designed to fit one person and a lot of gear.   It does the job of a traditional canoe or kayak in the water but being inflatable, when deflated, folds up into a durable nylon carry bag so neatly fits in the car or truck.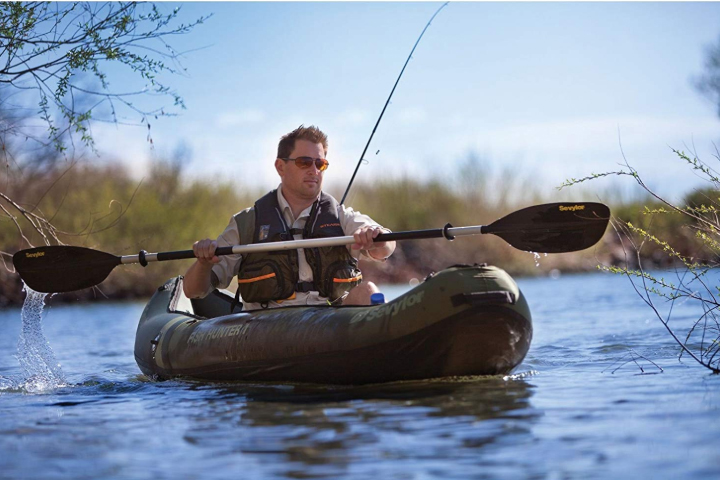 In the water, the raised bow of the Sevylor Rio and its stern gives you better handling. With tough 18-gauge PVC bladder with radio frequency (RF) welded seams and a thick 840D nylon cover with 1000D tarpaulin bottom, the canoe is durable enough to get through some of the strongest rapids.
Inflation and deflation are made easy with the boats Boston valves and the boat has separate air chambers for added safety.

Key Features of the Sevylor Fishing Rio Kayak
Inflatable Watercraft: Deflates and Folds-Up Easily for Transport
Raised Bow-and-Stern gives you Better-Handling
Built-to-Last
Tough 18-Gauge PVC Bladder
Radio Frequency (RF) Welded Seams
Thick 840D Nylon Cover
1000D Tarpaulin Bottom
Durable-Enough to Get Through Strongest Rapids
Boston Valves: for Easy Inflation and Deflation
Design Details-On-Canoe Make Trip Comfortable and Organized
Carry Handles
Adjustable Covered Bucket Seat
Inflatable Floor
D-Rings to Secure Gear
You'll Never Want to Take a Fiberglass Shell Again!
Berkley Fishing Rod Holder with 2-Mounting Locations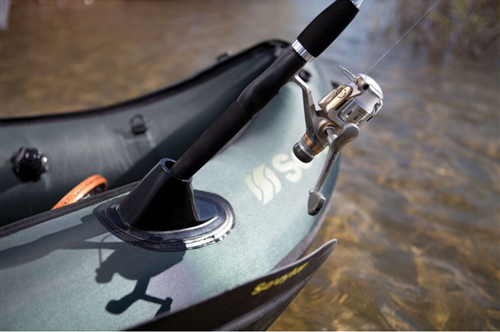 Other Features
Coast Guard Compliant & Certified by NMMA Under ABYC Standards
Trolling Motor Mounts for Sevylor Electric Trolling Motor

Owner's Manual

Pressure Gauge
Nylon Carry Bag w/Top Grab Handles for Easy Transport
Specification Sevylor Rio Hunting Fishing Inflatable Canoe
Materials: Bladder – 18-Gauge PVC, Bottom – 1000D Tarpaulin, Cover – 840D Nylon
RF Welded Seams
Dimensions:Inflated: (L x W) 9ft 9in x 35″ (332.7 cm x 89 cm)
Rider Capacity: 1-Person 350 lbs. (158.76 kg)
Valves: Boston
Reasons to consider the Sevylor Rio Hunting Fishing Canoe
Pros
This inflatable canoe is rugged which is important when out on the water.  You want a canoe/kayak what can cope with submerged branches or rock in the shallows. The 18-gauge PVC construction is rugged  and the 1000D tarpaulin bottom and 840D nylon cover provide durable protection from punctures.   In case you do get a puncture  the multiple air chambers allow another chamber to stay inflated.
When out fishing you will doubtless have a lot of gear and the Sevylor Rio provides plenty of space.  If you plan to travel some distance the Sevylor trolling motor fittings expand your fishing capabilities.
A great buy at around $320 and at the time of writing.
Cons
Whilst this canoe receives lots of 5 star reviews one owner commented "The plug for the bottom chamber on both of the ones we bought came off and we haven't been able to replace them".   So be careful.