Colorado XTS Inflatable Fishing Pontoon Boat 
With Transport Wheel, Motor Mount & Swivel Seat
The Colorado XTS Inflatable Pontoon Boat is perfect for your fishing outing .   A 9 ft  high-capacity pontoon boat with a padded swivel seat to keep you comfortable and a transport wheel to get you where you want to go faster.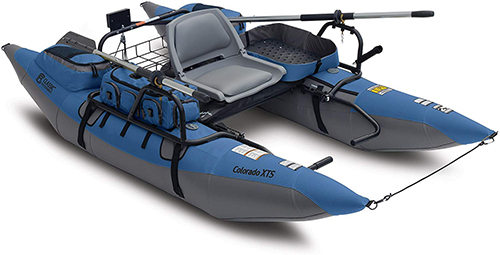 Key Features of Colorado XTS Pontoon Fishing Boat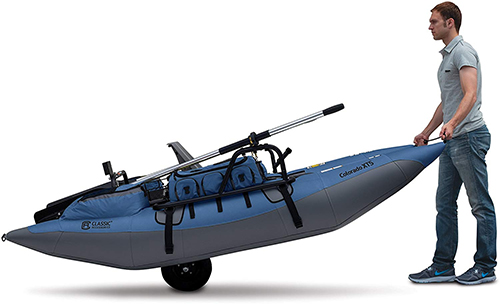 Classic Materials – Heavy-duty pontoons with abrasion-resistant PVC bottoms and rugged nylon tops for durability and a quality experience.
Swivel Seat – Padded swivel seat provides you with increased mobility while using the pontoon.
Transport Wheel – Transport wheel allows you to cover the ground to your favorite fishing spot easily.
Gear Bag – Removable side pockets combine to create a portable gear bag.

Colorado XTS assembled size: 108 inches L x 56 inches W x 28 inches H (to top of seat),

Weight: 80 lbs

Boat and oars disassemble into a compact size for easy transport and storage

Heavy-duty pontoons with abrasion resistant PVC bottom, tough nylon tops and powder coated steel tube frame

Cold and heat resistant bladders

Two-position motor mount

Wire rear storage and battery platform

Built to American Boat and Yacht Council standards

Max Weight Capacity: 400lbs

US based Customer Service Team

2-Year Limited Warranty

Motor not included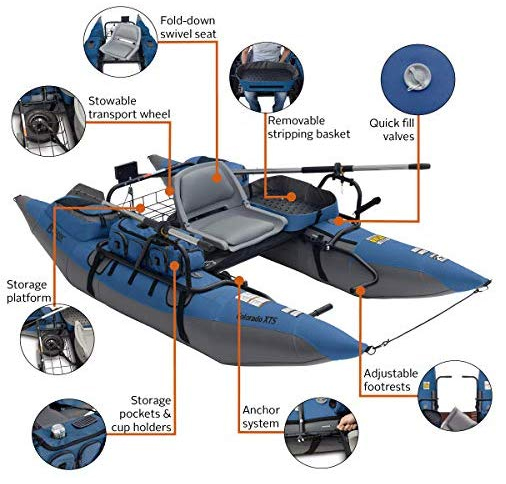 Why Buy the Colorado XTS Inflatable Fishing Pontoon?
Pros
With the Colorado XTS you get a lot for your money and all covered by a 2 Year Warranty.  An fisherman will delight in all of the features which would normally only be found in more expensive craft.  With many craft you worry about build quality and it is reasssuring that this inflatable boat is built to American Boat and Yacht Council standards and there is a US base Customer Service Team
Cons
Many might prefer a 2 Man Pontoon Fishing Craft