Sea Eagle Needlenose 12ft 6in NN126 iSUP Paddle Board Packages
The Sea Eagle NeedleNose NN126 iSUP  features Sea Eagle's Breakthrough Needle Nose Design with straight-line hull, pointed nose to pierce the waves, hydrodynamically curved touring shape and the ability to paddle faster, further and easier. Checkout it's impressive list of 5 Star Reviews. and the reason this is consider by users one of the Best Inflatable Stand Up Paddle Board particularly for those requiring a "Fast Inflatable Stand Up Paddle Board"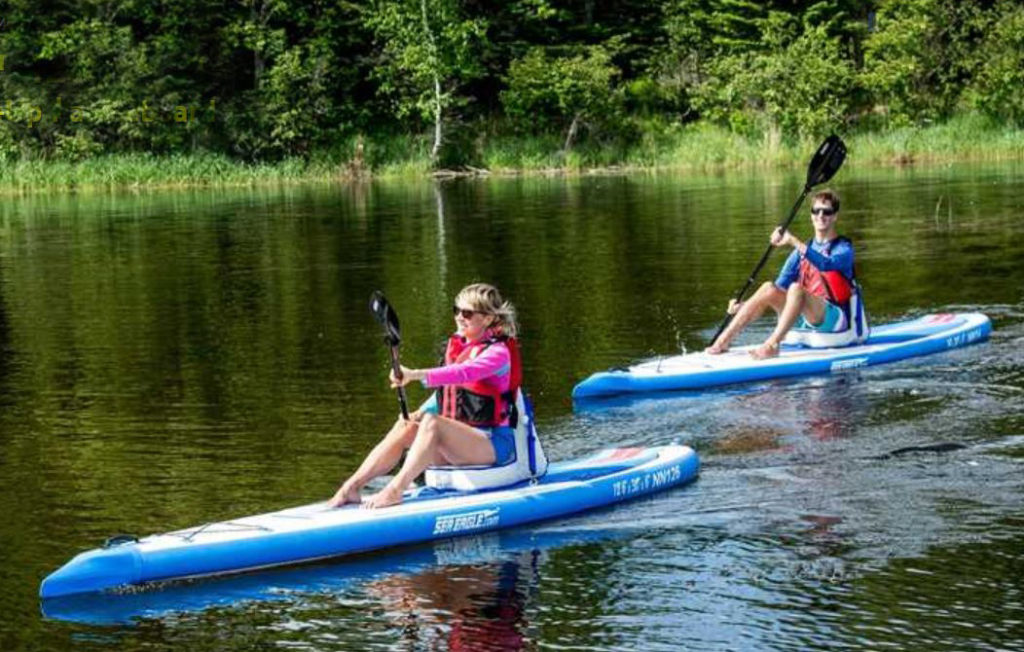 The unique shape of the NN126 and all Sea Eagle NeedleNose Inflatable SUP Paddle Boards allows you to perform advanced maneuvers with the custom high performance kick tail allowing for sharp pivot turns.   The razor sharp, wave piercing bow allows you to slice through the  waves and currents putting the NeedleNose models ahead of the competition.  With increased proportions over the Sea Eagle NN116 you gain improved floatation and stability.
The Sea Eagle NeedleNose NN126 Deluxe Package is an Inflatable Paddle Board Kayak Combo combining the benefits of both sit down and stand up paddling with NeedleNose 126, SUP pump, SUP paddle, AB30 paddle and Deluxe Inflatable Kayak Seat & Backpack.
Sea Eagle's NeedleNose 126 Deluxe Package offers an even larger stable platform over is sister paddle board the 11'6″ Sea Eagle NN116 with increased floatation, rigidity and even more stability. Of course their is a big brother too the Sea Eagle NN14 14ft iSUP Deluxe Package.  The larger NN126 is specifically designed for persons looking to combine touring performance in the most variety of environmental conditions and with the inflatable seat installed and the double end paddle you can have so much more fun and extended adventures.
This iSUP features a New Full Length Electric Pattern Diamond Deck EVA Foam Pad, convenient built-in paddle saving PaddlePocket holder and a low profile slide in Swept Back Skeg! 
This 12ft 6in SUP is 6″ thick and weighs only 30lbs (excluding the inflatable seat and is best suited for those weighing 225 lbs or less.  The extra 12″ over the Sea Eagle NN116 would allow for small dog or child on the paddle board.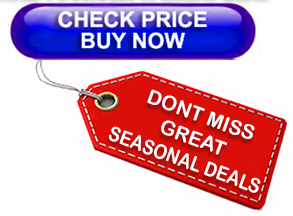 Features of Sea Eagle NeedleNose NN126 inflatable SUP Paddle Board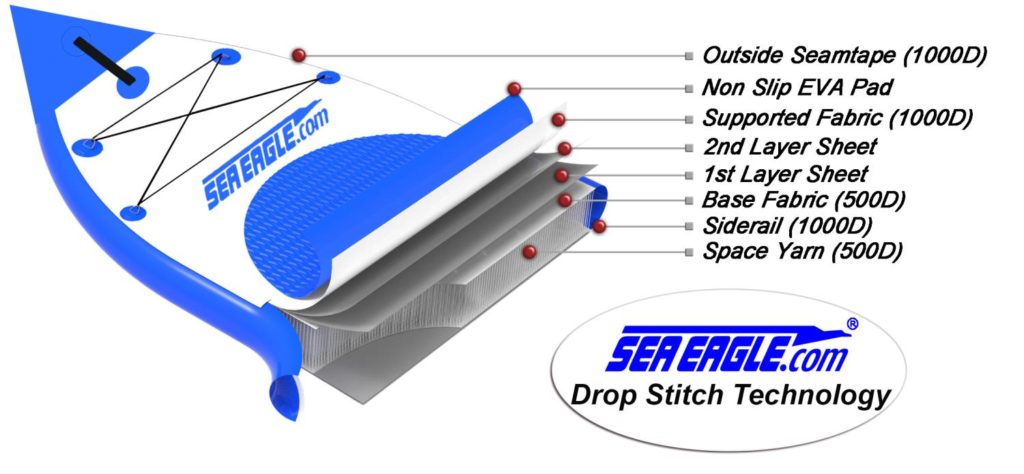 NeedleNose design razor sharp wave and water piercing bow
Straight-line hull with no upturn increases performance, speed and efficiency
Large, removable, rear, center, skeg
Two leading side skegs for improved tracking
Front grab handle
Elastic cords and multiple D-Ring attachments at bow
Center seat D-Ring attachments
Large rear D-ring attachment for leash and towing.
Proper carrying position balanced middle carry handle
15 PSI max air pressure capacity
Deluxe recessed Halkey Roberts style air valve
EVA foam Electric Pattern Diamond Deck Pad
EVA foam kick tail
Built-in paddle saving PaddlePocket holder


Customize Your Paddling Skill and Performance Levels with 1st, 2nd and 3rd Gear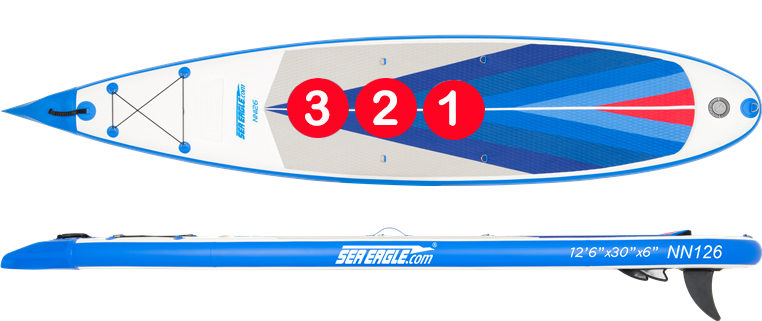 1st Gear: The most stable position.  Great for Novice Paddlers, nice and easy pace.
2nd Gear: Lowers the NeedleNose bow, increases planning surface area, increases speed.
3rd Gear: Optimizes speed performance, fully engages NeedleNose.  Paddle Board slices through the water decreasing hull resistance while enabling straight and true tracking, full waterline length being utilized for speed, paddle stroke kinesiology being optimized for speed and efficiency.
Why Buy the Sea Eagle NN126 SUP Paddle Board ?

If you are after an iSUP for a simple leisurely paddle or perhaps having some fun the Sea Eagle NeedleNose NN126 SUP Paddle Board combines them both.  It's unique and appealing shape means when you want to step up your paddle boarding a notch you can carve the waves and turn tight circles too.  If you are looking for a board for a leisurely paddle or perhaps having some fun the Sea Eagle NeedleNose NN126 SUP Paddle Board Deluxe Package combines them both and with the addition of Inflatable Seat supplied in the Deluxe package you can enjoy the NN126 as both an iSUP and a Kayak. The fact that it is 12 inches longer than the Sea Eagle NN116 iSUP increases stability and the max load from 200lbs to 225lbs and provides lots of possibilities and fun on the water.
So many 5 star Reviews for the Sea Eagle NN126 speak volumes.
What might also appeal to many is that Sea Eagle is based in the USA and has been family owned and operated since 1968.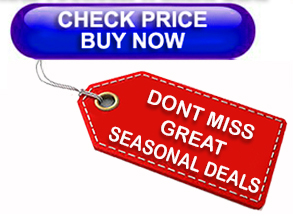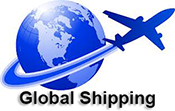 Sea Eagle NN126 Start Up Package includes
• NN126 SUP
• Backpack
• 3-Part Adjustable SUP Paddle
• High Pressure Piston Pump
Specification of Sea Eagle NN126 12′ 6″ iSUP Paddle Board
Person Capacity: 1 or 225 lbs
Length: 12 ft. 6 in.
Width: 30 in.
Board Depth: 6″
Hull Weight:  30 lbs.
Deflated Approx: 32″ x 16″ x 10″
Air Valves:  One Way
Inflation time: 7 Minutes
Seam: Quadruple Overlap
Material: 1000 Denier Reinforced Drop Stitch
Inflation Pressure: 12-15 psi
Volume: 254 Ltr.
Photographs & Images Courtesy of Sea Eagle