Sea Eagle TC16 16ft Inflatable Travel Canoe – 2/3 Person Canoe
Now with Wood & Web Seats
The Sea Eagle Travel Canoe 16 Inflatable Canoe is the World's First Patented High Pressure All Drop Stitch Inflatable Travel Canoe.  Farewell to heavy unstable bulky canoes and welcome the Sea Eagle Inflatable TC16 that fits into a small car trunk and sets up in under 10 minutes.   A relatively new addition to the Sea Eagle range the TC16 Inflatable Canoe has since launch received lots of 5 Star Reviews , is in a class of its own and considered by owners the Best Inflatable Canoe particularly as it's a World First amongst canoes.
About the Sea Eagle Travel Canoe 16 Inflatable Canoe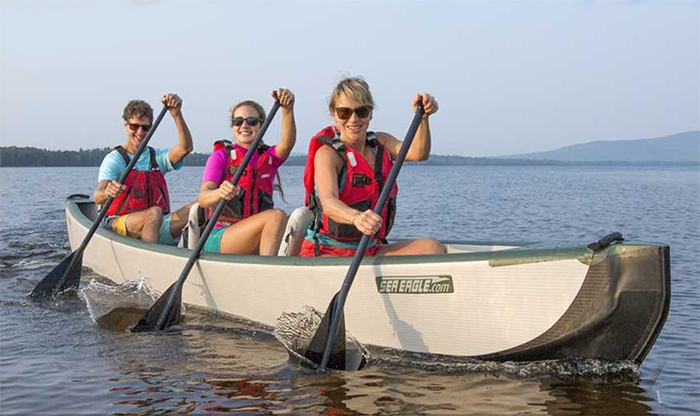 A World First that is Sea Eagle TC16's claim to fame – an "All Drop Stitch Constructed Inflatable Portable Packable Canoe".
Fully inflated this Travel Canoe is 16′ long, 38″ wide (at center) and 20″deep at the highest points and with a max load capacity of 915 lbs. This incredible canoe packs down to just a 40″ x 24″ x 16″ rectangle, fits into its own bag and even still fits into the small trunk of a Mini.
With 3″ thick rigid high pressure (10 psi) inflatable drop stitch gunwales (side rails) that stand 20″ at the highest points and are set at a 15° angle with a 16′ long x 25″ wide x 3″ thick rigid high pressure (10 psi) inflatable drop stitch floor, you not only have incredible initial primary stability but you also have outstanding secondary stability. The Sea Eagle TC16 is far more stable than traditional rigid hull canoes!
The Sea Eagle TC16 has accomplished things that exceed those of traditional canoes.
It is a completely buoyant and importantly unsinkable canoe.
Easy to upright and to re-enter from the water.
Remarkably it is 33% lighter than comparable canoes.
Has incredible primary and secondary stability (stable to stand in).
Slices through the water thanks to Bow/stern molds.
Full length flat planing surface area for additional speed, designed to create lift and reduce drag
Entire hull waterline length enabling paddling speeds up to 5 mph.
Full length double chine system and removable rear skeg to enhance tracking and increase stability.
Three separate air chambers for additional safety.
Rated for up to Class IV whitewater.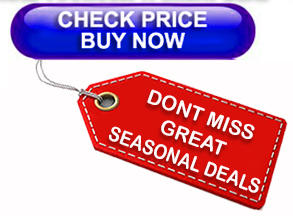 Key Features of Sea Eagle Travel Canoe TC16 Inflatable Canoe

All Drop Stitch Contruction Creates The Shape Of Traditional Canoes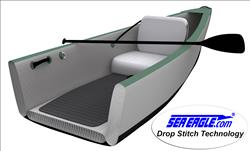 The flat 3″ thick high pressure (up to 10 psi) side and floor chambers create a narrow, rigid and extremely spacious inflatable canoe. This construction system reinvents the traditional canoe in a unique inflatable form and provides previously impossible benefits. Greater safety, incredible stability and incomparable portability with no sacrifice to paddling performance.
Double Chine System For Triple Stability & Improved Tracking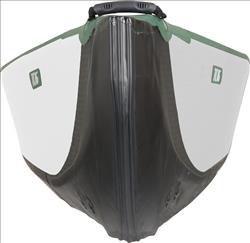 The TC16 Travel Canoe is more stable than many traditional canoes because of the Double Chines that run the entire length of the canoe. All canoes have some form of primary and secondary stability. The Travel Canoe actually has three forms of stability. The two distinct chines along with the flat bottom contribute to stability, speed and tracking of the Travel Canoe. The first chine is formed where the drop stitch inflatable floor meets the drop stitch inflatable side walls. The second chine comes from the angle of the drop stitch inflatable side walls. This results in primary stability from the flat bottom, secondary stability from the first chine and additional stability from the second chine.
Diamond Deck Pads For More Secure Footing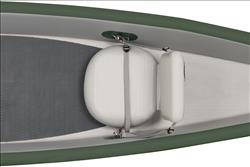 To provide safe and secure footing when getting in and out of the Travel Canoe there is a layer of diamond pattern anti-skid EVA foam decking. This not only makes this canoe safer to stand on  it adds an additional layer of protection to the floor. To secure the drop stitch inflatable seats while providing maximum adjustment (for one, two or three paddlers) additional d-rings have been added to hold a durable nylon strap that keeps the seat in place.
Inherent Bouyancy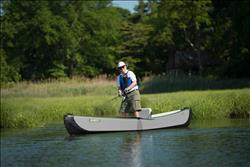 Unlike traditional rigid canoes, our Travel Canoe has added buoyancy from the inflatable air chambers of the floor and sides. This means while adhering to the Travel Canoes specifications it will not sink. In addition, because the air chambers have inherent buoyancy you can load this canoe with hundreds of pounds of supplies and still paddle and maneuver easily. Best of all this inherent buoyancy makes the Travel Canoe safer in whitewater rapids (up through class IV).
Bow and Stern Molds combined with Rear Removable Skeg for Speed & Tracking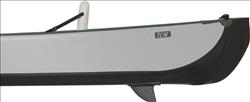 The Travel Canoe features bow and stern molds that cut through the wind, water, waves and current while creating lift reducing drag and friction. The added feature of the large removable rear skeg further improves speed and tracking because the skeg reduces the natural yaw of a canoe and makes forward motion far more efficient. The skeg is designed for use on open water and windy conditions. It can be removed in seconds for use on whitewater or when using the J-stokes.
East to Transport and Store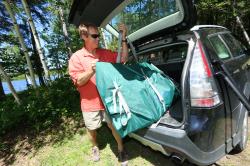 Not only is the Travel Canoe 33% lighter than rigid canoes of the same class but it also deflates and packs down to a mere 1/4 of its inflated size. This means the Travel Canoe will fit easily into the smallest car trunks for both easy storage and transport, making it readily available for use at all times.


NMMA Certified
Double wall construction on floor to provide greatest possible strength, rigidity, puncture & abrasion resistance
Unique Patented all drop-stitch construction with rigid bow/stern molds.
3 one way recessed Halkey Roberts style air valves
Removable skeg at rear to control yaw and improve speed
2 D-Rings to secure seats
4 Open & close floor drains
Bow and stern grab handles
Sun & saltwater resistant hull material
Rated for up to Class IV whitewater
Inflates to 10 psi for hard hull paddling performance
Nylon carry bag, repair kit & printed instructions
Reasons to Consider Buying Sea Eagle TC16 Inflatable Canoe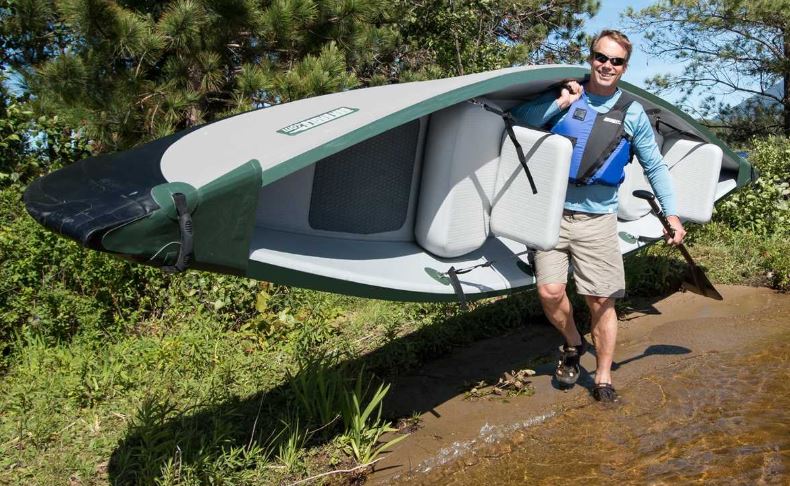 Pros– Sea Eagle have been manufacturing kayaks for over 50 years so they have an enviable pedigree. A couple of years ago they introduced the TC16 which was the World's First Patented High Pressure All Drop Stitch Inflatable Travel Canoe.  Available then with inflatable seats they have now introduced a great option of Wooden /Web Seats which improves the canoeing experience.  The drop-stitch construction creates a stiffness resembling a plastic boat with equivalent speed too and it weight just 60lbs.  Of course the one great advantage is the fact that it can be packed down to just 40″ x 24″ x 16″
Cons – If you want a quality Canoe the Sea Eagle TC16 meets the brief but quality does come at a price – although at the time of writing this (May 2020) you can find a 20% Discount on the Sea Eagle TC16.
Specification of Sea Eagle TC16 16ft Inflatable Travel Canoe
Exterior: 16′ x 38″
Interior: 15'2″ x 25″
Thickness: 3″ Side Chambers 3″ Floor Chamber
Hull Weight: 60 lbs.
Hull Material: 1000 Denier Reinforced All Drop-Stitch Construction
Inflation: 7-9 Minutes
Weight Capacity: 3 Persons or 915 lbs.
Deflated : 40″ x 24″ x 16″
Images & Photographs courtesy of SeaEagle.com