BRIS 12ft Inflatable Boat – BSR360
Rafting, Diving, Dinghy, Tender, Pontoon & Rescue Boat
The BRIS 12ft inflatable boat is made of 1100 Denier 0.9mm PVC fabric .  It has a solid floor of aluminum floor boards with a marine plywood transom. This boat has round end-tubes for better performance. and they have added double layers of fabric at the bottom of the tubes. This allows 1.8mm of lower tube protection against sharp rocks and abrasive sands.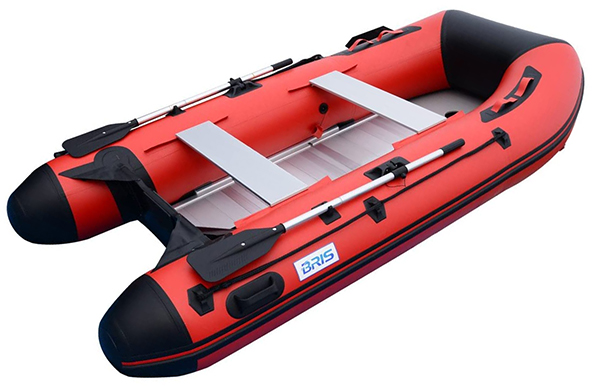 This boat is lightweight and does not take up much space once deflated. it can take up to a 20HP short shaft outboard motor and can carry up to 5 people maximum . The BSR360 is great as a tender for yachts or sailboats. it can also be used as a lifesaving raft in case of an emergency.

Features of BRIS BSR 360 Inflatable Boat
Premium Quality Materials : BRIS this model is made by 1,100 Dtex 0.9mm PVC fabric with polyester support, having excellent resistance to tearing, tension and breaking

Heat Welded Seams for perfect seaming and guaranteed to last in fresh water, salt water and extreme humidity. Most seams are quadruple overlap for maximum strength and durability and will not fall apart .

Deep V-keel with rub-strake protection for easy planing

Three individual chambers

All around, durable rubber strike

One-way drain valve with plug

Built-in oarlock for easy rowing

Gas tank pad for securing the gas tank.

Overall length: 12ft
Inside length: 8ft
Overall width: 5.6ft
Inside width : 32inch
Tuber diameter: 17.7inch
Chambers: 3
Max person : 5 adults
Max capacity: 1322 lbs
Max hp: 20hp
Boat weight: 132 lbs
Floor Design: Aluminum floor
What is included in the BRS BSR360 Inflatable Boat Package
Inflatable boat
Aluminum Floor Panels
2 x Seats
2 x Oars
Foot pump
Carry bag
Repair kit

3 year manufacturer warranty. Guarantee begins when product is delivered.
Why Buy the BRS 12ft Inflatable Boat?
Pros
The BR BSR360 Inflatable Boat represent good value for 5 person Tender Boat. The boat is lightweight and does not take up much space once deflated.  Some comfort from 3 year manufacturer warranty.  A top selling inflatable boat on Amazon (03/2020)
Cons
For 4 persons you might prefer the BRIS BSR310 10ft Inflatable Boat which is presently $250 cheaper